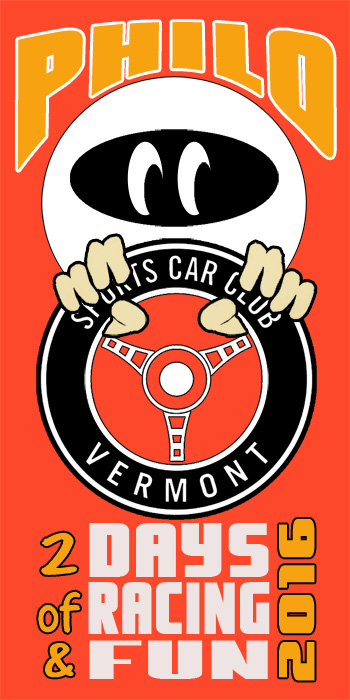 New England Hillclimb Association (NEHA)
http://www.hillclimb.org
The Sports Car Club of Vermont (
http://www.SCCV.org
) is pleased to present the Mt. Philo hillclimb in Charlotte, Vermont on October 14-15-16, 2016
Details in NEHA forums along with info on how to order 2016 Mt Philo Shirts:
http://www.hillclimb.org/forum/viewtopi ... =15&t=1384
Event information and entry form are
HERE
.
A typical Philo event is to have a lot as we are able to run a continuous loop up and down the hill. Since an event can only be successful because of the hard work and dedication of our volunteers, please bring friends, family, signification others, enemies, etc. to help staff this fun event.
Lunches are included in the entry fee and is free to workers.
Photos
:
http://vermontracing.com/1/index.php?/category/38
Video
:
http://www.youtube.com/watch?v=qyerDvRpKbI
Questions should be directed to Steve (
SCCVermont@aol.com
) or Chris (
bongocat@myfairpoint.net
)
Registrar
: Erik (
erik@mrvre.com
)
Pre-Event Worker Coordinator (contact prior to event)
: NEED!!!
At Event Worker Coordinator
: NEED!!!
Camping info and reservations:
(2016)
http://www.hillclimb.org/forum/viewtopi ... =15&t=1383
Campsite information:
http://www.vtstateparks.com/pdfs/philo.pdf
ORGANIZATION
THINGS TO
Setup online registration Mailed in 2016
Post in forums and Facebook Done
Insurance Done: Requested 29-Jul-2016.... insurance sent to Philo/state 13-Sep-2016
Special Use Permit (SUP) Done: Submitted online (new process) on 21-Jun-2016 and paper SUP with check on 18-Aug-2016)
Medical binders (Don Taylor) Done 9/6
Wrecker/Tech (Don Taylor) Done 9/9
Speedway (Don Taylor) Done 9/6
Security for the bottom of the hill from 7AM to whenever $350 for weekend (Steve)

Remind him on 10/12/2016

) Done 9/6; need reminder on 10/12... he has been reminded 10/11; bring checkbook to Philo
Port-o-let P&P Septic 658-6243 Arrive by 2pm on Friday/remove Monday AM. 1 unit at the bottom of the hill. Done 9/8; paid with SCCV CC
Registration supplies: Arm bands, pens, entries, waivers, cash box, SUP waiver, other paperwork, etc. xxxx
Copies of SUP State waiver for each driver to signDone (Steve)
Dash Plaques Done
Place Plaques (i.e. 1st, 2nd, 3rd) (Don Taylor to bring to Philo)Done 9/6; gave plaques to Kevin Gale after event
Clean out trailer and load Philo specific equipment (ladder/bolts, wire, signs, kitty litter, brooms, flags, etc.)Done 10/11
2016: Order canopies (2 10x10 and 7 8x8) Done
2016: Purchase 10 5# Sentry ABC fire ext Done
2016:Sweeping broom and dust pan Done
2016: Purchase corner and checkpoint signs Paid via PP by Steve / Done
Tour this year? Nothing planned
One way signs for hill Done
Ten Signs for trails Done
Print alternate hiking options for security to hand out to visitors Done
Signs for local stores (Mobil, Grant's family store, and the Charlotte & Ferrisburg USPS) Done
Steve and Chris to go to Philo to meet with Ranger and drop off two posters and get combo Done
Local newspapers (Submit to Charlotte News, Addison Independent, Burlington Free Press)Submitted 9/7, but need to pay and confirm; BFREE Done (paid with SCCV CC) / Done
KSCC Phones/Radios (Paul M bringing to Philo) Done 9/10
KSCC Other Communication Equip and starting light (Paul M bringing to Philo) Done 9/10
KSCC equipment xxxx Nothing in 2016
Pay KSCC equipment rental fee of $50 Done; handed check to Kevin Gale
KSCC Verify Timing w/ Kevin Gale (Kevin bringing equip) Done 9/10
Food (Robin) Done
Verify Control Person: Who gets the short straw this year? (Chris/Steve)
Checkbook at event to pay NEHA ($1.50 per entry) and KSCC (equip fee $50 fixed / new in 2016)Done $54 pmt

Check PO box for Speedway bill, etc. (and perhaps pay PO Box bill) after the event.

xxxx
Request Philo 2017 event from the state immediately after Philo via email AND the new online version at https://anrweb.vt.gov/FPR/FPRLicensing/Done 10/20/2016