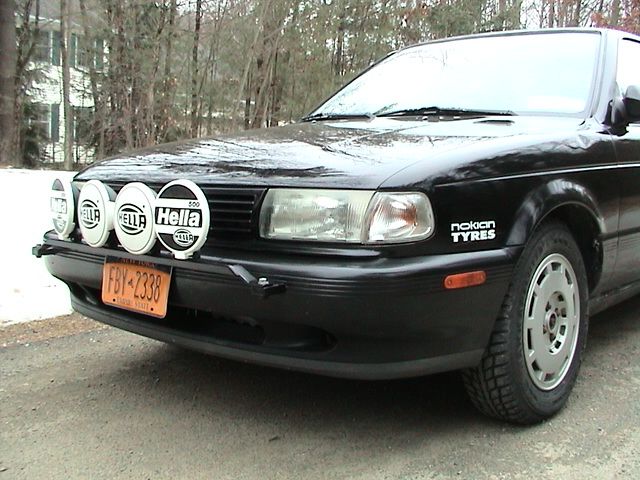 Well I took my 22 year old, 250-k mile "tin box" SE-R up to Canada and had a hell of good time with it!

It was an epic trip and the best winter tsd of my life. It snowed all afternoon and evening. Conditions were as good as they could possibly have been with perfect snow cover everywhere, even on main roads. Unlike in the US where people drive around on worn out all season tires and create accidents all over the place in every winter storm, in the province of Quebec winter tires are
mandatory
. Also, they don't immediately dump tons of salt on the roads like they do here. They just plow it off and hold off on the salt until the storm is over. People actually know how to drive in the snow and they don't poke along at 30 mph. It was very refreshing indeed.
The rally lived up to it's name and the snowbanks were taller than the car in many places! I was very lucky to have S.M.C.C. President, David Wood as my navigator. David and I have teamed up twice before during the summer for the Economy Run events, but this was our first 'performance' event together. Thankfully, David trusted my driving to ride with me in these tricky conditions. He has many years of winter rally experience and he warned me of all of the notorious off camber and/or decreasing radius corners that have caught people out [including himself] over the years. David said that he had a hockey game earlier that afternoon, and to pick him up afterwards. I got there a bit early and saw the end of his game. He is the goal tender for his local team and is seen here defending a shot on goal.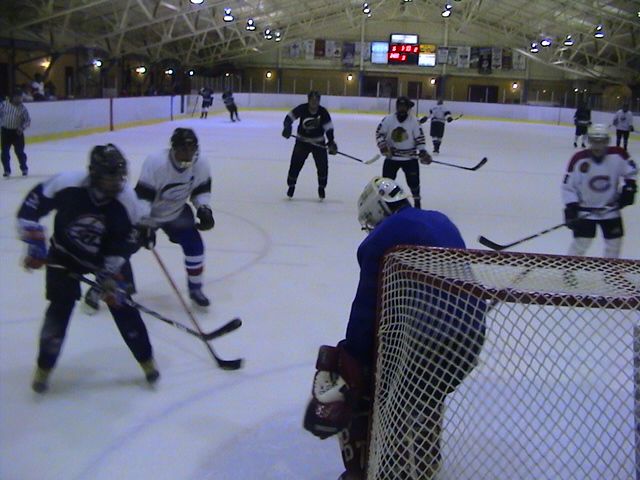 Although 99% of the rally was in Quebec, we actually started the event at Restaurant Carole, in Hawkesbury, ON, where English is the primary language. But just across the Ottawa River, they speak French! Interesting.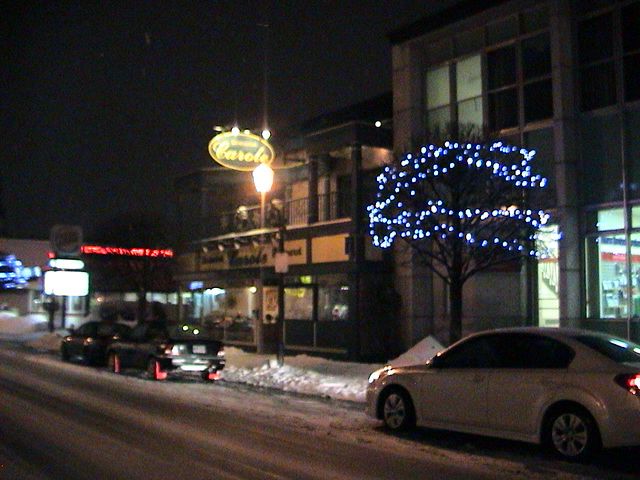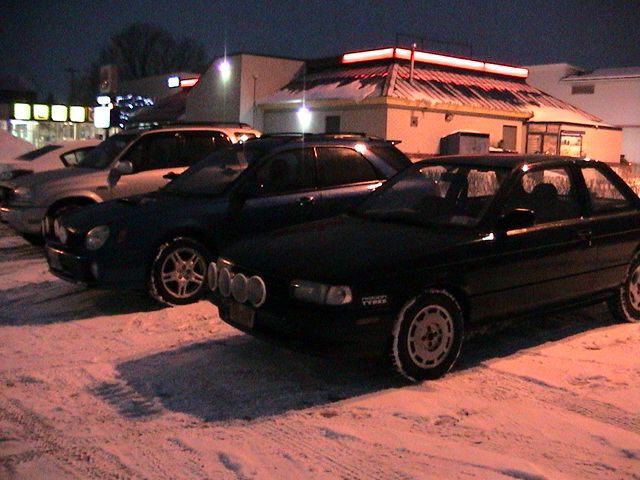 Behind Restaurant Carole, getting ready to start the event.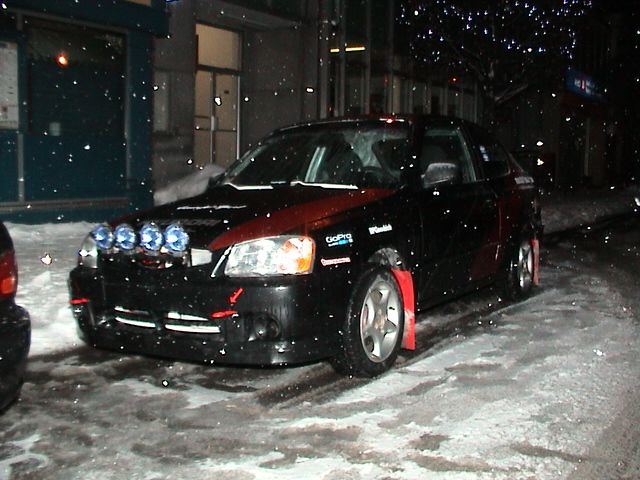 I really liked this Hyundai Accent. Like mine, this was the owner's rallycross car. It too, was stripped out and lightened. Another "tin box!"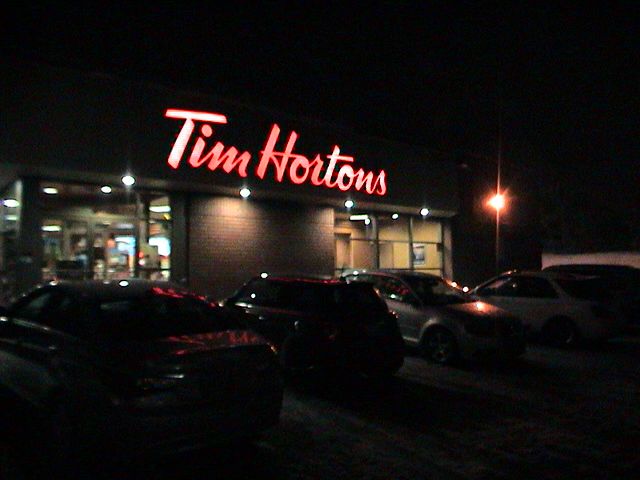 Tim Horton's was the site of the halfway break in Quebec. The hot chocolate and donuts flowed......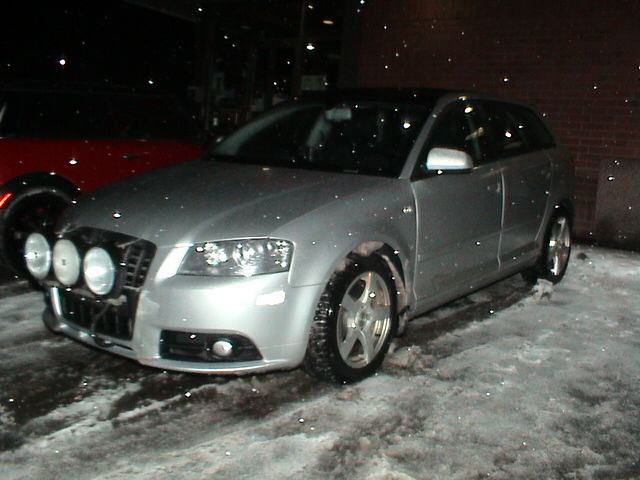 This Audi A3 caught my eye as well.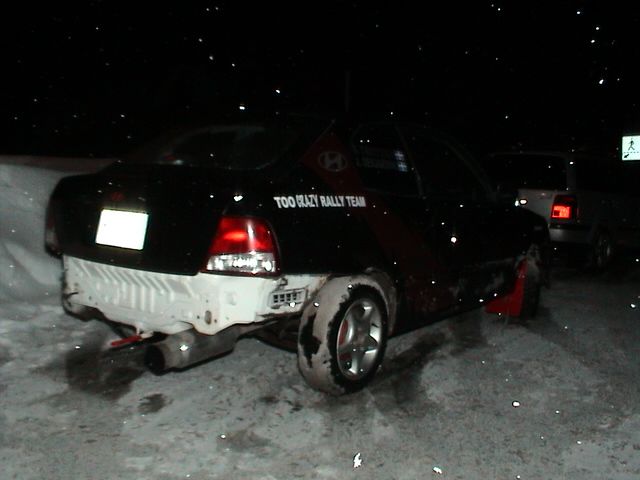 One of the 1,000 snowbanks claimed the rear bumper cover off of the Hyundai Accent rallycross car.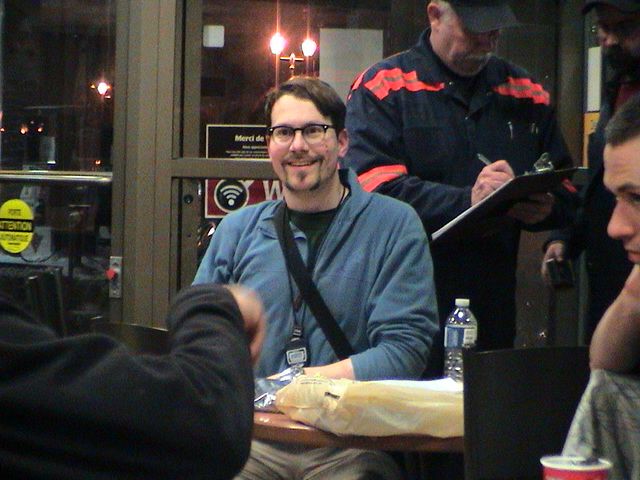 The rally concluded at midnight. one of the evening's checkpoint workers and S.M.C.C. V.P. Jeff Dungen got right to work tallying the results for the awards presentation.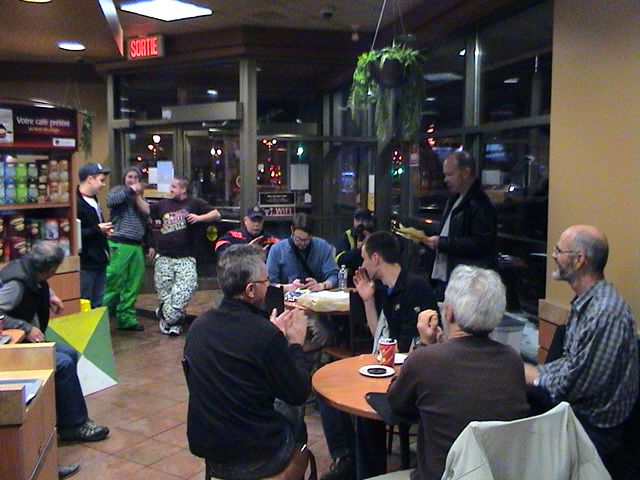 Rallymaster Ian Pavelko announced the finishing positions.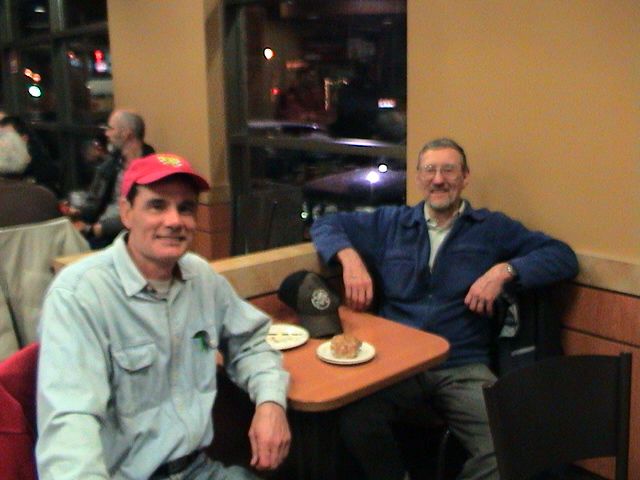 David and I relaxing after the rally. How did we do? Well, to be honest my priorities did not lie with trying to keep perfect average speeds and zeroing each section. I expressed this with David before the event and he gave me the green light to "have fun". So we racked up some penalty points for being early to controls and also lost 5 minutes helping another competitor out of a snow bank. Again, unlike in the US, the S.M.C.C. does not offer "time allowances" to make up for making a wrong turn [or helping a competitor out of a snow bank.] So we ended up finishing in 6th place in the "expert" class.

With it's perfect snow conditions, the excellent twisty, snow banked lined roads with constant elevation changes, the Rallye of 1,000 Snowbanks goes down in my book as the premier winter rally of the northeast. As Arnold Schwarzenegger once said: "I'll be back!"