A little
unexpected
progress.....
As I mentioned, I dropped the head off at RPM in Georgia, VT to have them clean the head, deck the head (it isn't called decking with the head.... correct term escapes me), etc. Then, when the new parts (exhaust valves, guides, etc.) arrive, I would drop them off for them to complete the head. I gave them 20 valves (intake and exhaust) and explained they would only use the intake valves and I would bring them the exhaust. I also did not expect anything to happen (opps, premature foreshadowing... you know where I'm going with this) as I did not drop off the valve guides yet.
Weeeeellllllll, they did a great job of turning around the head really really fast by calling me on Tuesday to say it was 100% done and ready to pick up. They ended up using sleeves instead of the guides that arrived today (Wednesday), so I will have to return the guides. So kudos to RPM for getting the head done really fast. I explained to them on Tuesday what my expectations were when I dropped off the head (minor miscommunication, no big deal). They will swap out the exhaust valves later in the week. Fast turn around, love it! Getting closer to putting this all back together.
Ordered a new piston. I forgot that we did a one-size over (82mm vs 81mm) on the pistons during the last rebuild. Complete piston with new rings and wrist pin should be here soon..... I will bring that to RPM to get the wrist pin to fit nicely into the piston (I'm learning!) and to balance all 4 rods/pistons. New rings are also coming for the other three pistons.
That leaves some thermal protection for the oil lines and the strut tower area... KalesCustom.com has Earl's FireGuard in stock so I will get that for the oil lines. Still thinking of options for the heat shield on the strut tower.
Picture for those who don't read posts with paragraphs and punctuation.... like me.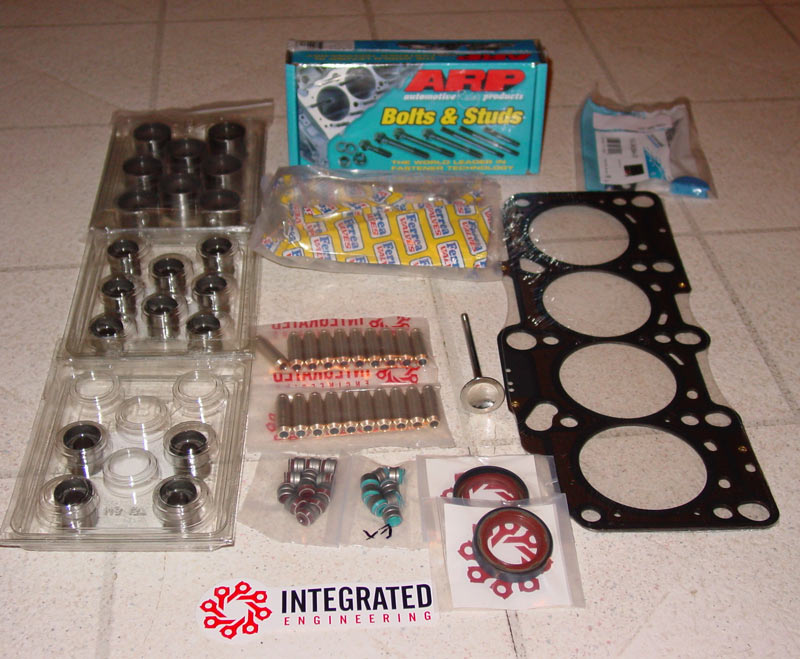 -------------------------------------
Then there is the truck.
Chris (vtGTI) accepted the task to swap out the fuel tank on the F250... only took some excessive persuasion.
Jason at
VEMS.us
(Colchester, VT).... same guy that did the last tune on the Golf and will do it again this spring
AND
did the great tune on the Cabriolet.... allowed Chris to use his "shop" (more like a warehouse) to work on my truck. Very helpful as it was snowing all day on Tuesday.
With a little bit of blood (yuck... will spare you that picture!), sweat, and tears... and a lot of oily diesel fuel, rust, and dirt, he was able to get it done by 1:30ish AM (at least that is when I rec'd the pictures from him). Thanks Chris!
Old 47 gallon metal Transfer Flow fuel tank that I have been talking about replacing since 2005 vs. the new 50 gallon Titan Tank fuel tank made from "military-grade, cross-linked polyethylene".... you know, plastic.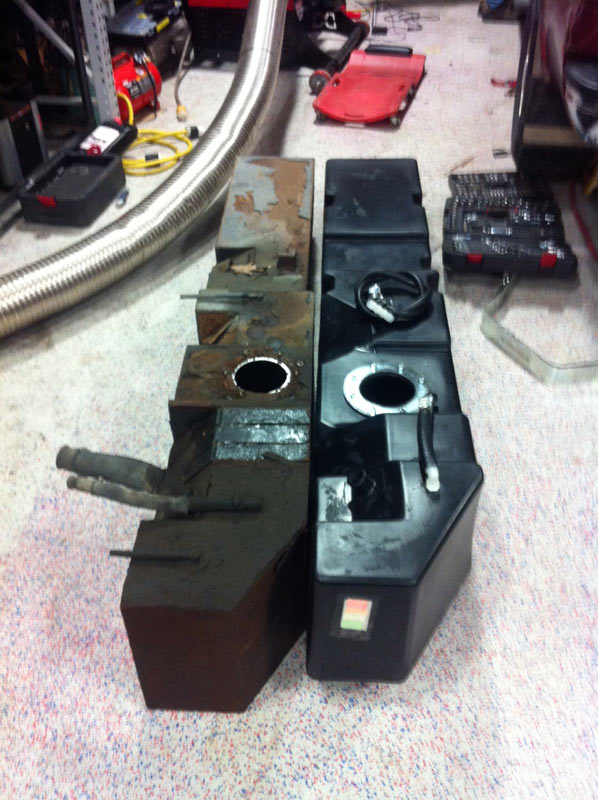 This hole on the top explains why it leaked while parked on a hill or when I fill it about 3/4 of a tank.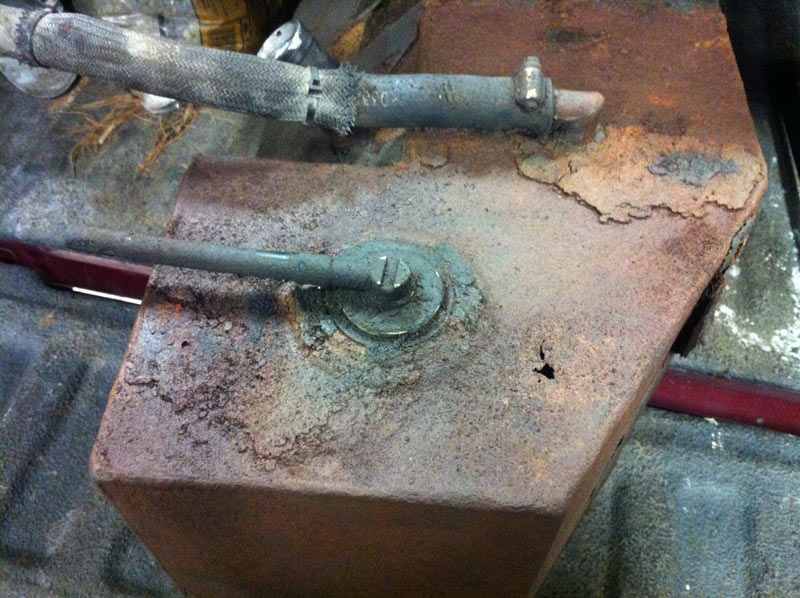 So, I did something stupid like try to fill up the tank on my way home. There was already 10 gallons in the tank so I put another 40 gallons in for $176!!! Ouch!
While the truck was at VEMS, Jason checked out my trans temp, EGT, and boost gauges to see why they stopped working. While he was in there, it hooked them into the dimmer switch so they dimmed with the rest of the dash! He believes the trans temp gauge is now working (I won't know 100% until we get some heat in the transmission); the EGT gauge needs to be replaced, but he confirmed the sensor and wiring were functioning; and the boost gauge seems to just need a new tube. I will take care of all of that soon. Big thanks to Jason for being a great tuner, standalone engine management harness builder, tuner, and electrical genius!