Well I might as well make a thread about this car, since it's a constant project.
First I guess a little history.
I bought it in 2003, when I saw it in the Free Press and sold my old Acura Legend.
The day I drove it home, in rough shape:
Then at my first 3Si 'east coast gathering' in Ocean City, MD with my college roommate (in 2004):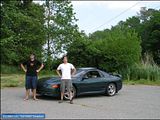 Fast forward to 2007. In the 4 years inbetween, I did a lot of mechanical restoration. It got pretty much everything you can think of, from a new engine to transmission to larger turbos, fuel, brakes, suspension, etc etc. I started drag racing, ran a 12.7 @ 109 with stock turbos and a 12.4 @ 111 with the bigger ones with stock fuel. I added a 1999-year front bumper, rims, and removed the wing:
Here I am at the ECG in 2005:
http://img146.imageshack.us/my.php?imag ... exy3dp.jpg
Since then, I attacked it with spray paint, added the FMIC, and some other things. I began autocrossing last year, finished 2nd place for the season in the NEPA SCCA chaper's NM class, and with the 550cc injectors ran an 11.8 @ 116:
Cont..